Projects - Education - Archive
Nursery for Socially Disadvantaged Children, Dala
We had long tried to get a foothold in Dala Township on the opposite of side of the Yangon River, just a 5-minute boat ride from Downtown Yangon. We wanted to open a branch of the Yangon nursery there. Up to the Cyclone Nargis 2008 the authorities were dismissive but their attitude changed after the destruction of most of the township. Many parents wanted their children to be taken care of instead of them hanging around in the broken houses. Given this demand the authorities accepted our offer to care for children and it tacitly consented to the opening of a nursery.
The nursery was opened on July 1, 2008 and was put up in a municipal house which is not used during daytime. 52 children between 3 ½ and 6 years are now registered here. We provide the same services as in Downtown Yangon, i.e. free food and free nursery care. The nursery is run by three experienced nursery teachers.
Already after one year we had to stop the support for the branch of the Yangon Nursery in Dala Township. Although we would have loved to continue the project for about 60 children, the township authorities did not allow PIN to visit the nursery anymore. The authorities did not appreciate the international support and did not want foreigners to witness the appalling living conditions of the children and families across the river. The Sisters continue to run the nursery in a dilapidated building of the Government Party USDA (Union Solidarity and Development Association).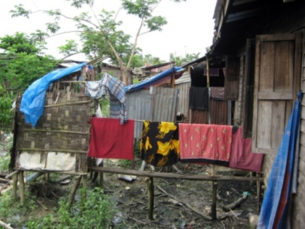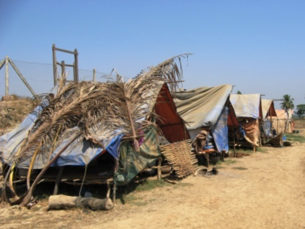 ---