Projects - Education - Archive
Mong Kho Rehabilitation and Education Project
For six years PIN supported the rehabilitation and education project for hill-tribes in Eastern Shan State, close to the border of Myanmar and Thailand in the 'Golden Triangle'.
In March 2005 PIN started to assist the Catholic Good Shepherd Sisters in Yangon Ywar. The project area covered the Mong Kho Village Tract, about 30 – 80 km away from the border town of Tachileik, inside of Eastern Shan State, Myanmar. The project for the ethnic hill-tribe of the Akha had been started by the Sisters in 2001 with some UNDP funding as a rehabilitation project for drug users and HIV-positive villagers.
Historically, the villagers had sold their daughters into prostitution to Thailand and had taken the money to buy and smoke opium. As a result many of the villagers were drug-addicted and HIV-affected and worst of all the young generation older than 12 years was gone – the boys didn't stay long after the girls had left for Thailand. When we arrived, UNDP had long stopped the funding and in 2005 People In Need took over the financing of the complete project.
After 6 years of support we witness big changes: the children grow up with nurseries and care and they attend school successfully. The parents realize the benefits of education for their children and indirectly for them. As the income generation programs and entrepreneurial activities take off, the villagers get more prosperous. The parents have increased their contributions to the project and to the education of their children significantly and by June 2011, PIN could end its annual financial donation.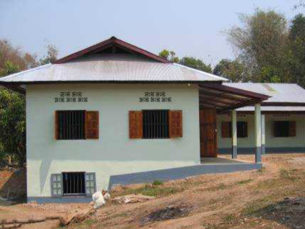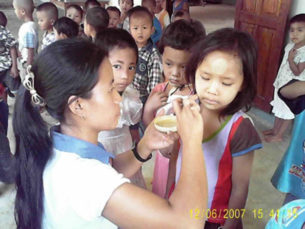 In 2011 the project covered 14 villages with 2,364 villagers of which 699 were younger than 18 years. 4 Sisters, 13 project staff and 7 field workers worked for the project.
The staff took care of
two nurseries with 100 children,
supplemental school education for 80 boys and girls attending primary, middle, and high school,
a boarding house with 58 girls attending primary, middle or high school,
a twelve-month vocational training program (sewing and handicrafts) for 12 girls living in a separate boarding house at the compound,
a sewing and handicraft workshop with commissioned work to generate income opportunities for women and girls in the surrounding villages
an agricultural project with pig-breeding, vegetable gardening, and paddy fields.
---